Juan Ochando (PhD Biology with cum laude, July 2021, University of
Murcia) is hired by the University of Murcia through a Margarita Salas
postdoctoral fellowship. He carried out his predoctoral studies within
the "Paleofloras and Human Evolution" Project under the direction of prof
JS Carrión. He is part of the ECCE HOMO Research Group, within the
University of Murcia, as well as the Department of Environmental Biology
of the Sapienza University of Rome, within the Laboratory of
Paleobotany and Palynology, led by Prof. Donatella Magri
Archeological palynology
and Neanderthals: New
pollen sequences from the
Iberian Mediterranean
ABSTRACT: This research aims at investigating the connections
between the fossil record of plants (pollen and spores, along with
other micro- and macroremains) and the fossil record of hominins
(principally Homo neanderthalensis) during the Mid to Upper
Pleistocene, operating at three spatial scales: continental (Western
Eurasia, Southern Europe and Near East), regional (Iberian Peninsula,
Italy, the Balkans and Israel) and local (various caves for each region).
To this goal, new palynological sequences have been produced and will
be produced in the next years. It aims to decipher the plant component
and the dynamics of change during the Mid to Upper Pleistocene in the
Mediterranean Region, as well as study the glacial refuges for the
Iberian Peninsula, Italy, Balkans and Israel during the Quaternary in a
Human context and their strategic influence on the survival of woody
taxa.
Tuesday 25 October 2022 - ore 09.30, Sala Strozzi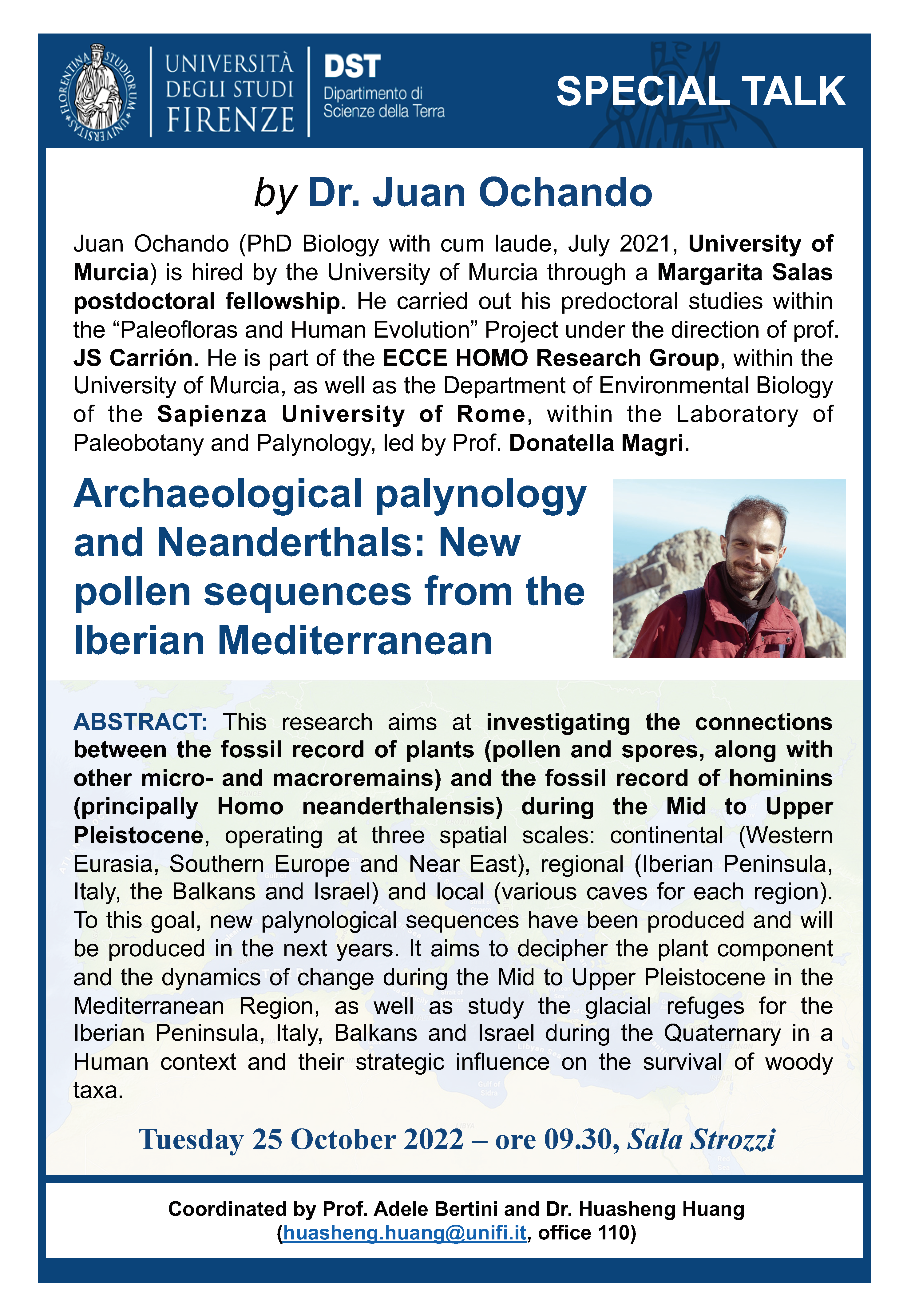 Coordinated by Prof. Adele Bertini and Dr. Huasheng Huang
(huasheng.huang@unifi.it, office110)